Dear Parents & Students,
My heartfelt greetings from the Takshashila Trust. It gives me immense pleasure to communicate with you through this web. The aim of our Trust is integrated quality education in a congenial environment. I feel that education is the basic factor for the country's development. With this view in mind, we started this school with academic and non-academic activities under one umbrella.
Our educations are well trained and inspire confidence in the young minds. We discover the hidden talents and encourage them with ample opportunities. I feel that this generation needs value-based education. Life skills are integral part of our education. We put our fullest efforts to make the child an all-rounder, mental, physical and spiritually fit to the time.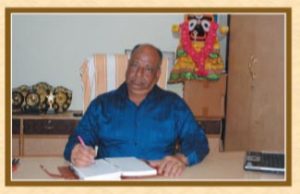 Sri Bajranglal Choudhary
Founder Chairman
Our campus is scheduled, far from the madding crowd with a scenetic beauty around. Fully equipped with smart digitalised class rooms under CCTV surveillance takes much care about your child's security. We organise activities like Debate, Essay Writing, Sports Meet, Science & Art Exhibition and competition round the year.
I am confident that Takshashila Residential School is an ideal choice for your child. Finally, I am happy that our parents are even supportive in our endeavours to develop this institution into a centre of knowledge.
BajarangLal Choudhury
Chairman